Commercial Roof Coatings In Denver & Throughout Colorado

If you own a building, you know how costly roof repairs/replacements can be. By installing a roof coating system, you can add years to the lifespan of your roof. Commercial roof coatings are easy to install and will protect your interior by preventing leakage. Roof coatings are reflective which means it keeps your building cooler and your energy costs down. Call us today to see if your building qualifies for a roof coating system!
The Benefits of a Roof Coating System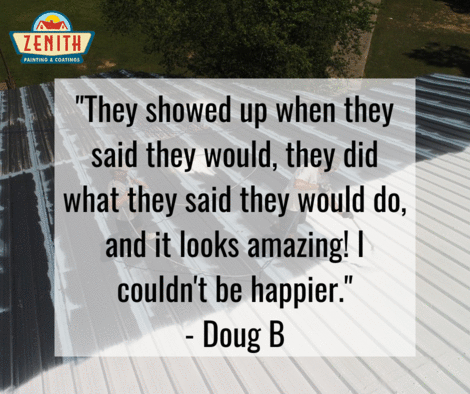 Cost Savings
The largest advantage to installing a Fluid Applied Roof Coating System is the cost savings. On average, a roof coating system will cost roughly 30 to 40% of the total cost to do a full tear off and replacement of the existing flat roof; not to mention that in most in most regions, it is considered a "line item maintenance expense" allowing you to enjoy the full amount of the expense in the same calendar year rather than the 5 year amortization schedule required of all "capital expenditures" such as a full re-roof project.
Energy Reduction & Credit
An additional benefit to Fluid Applied Roof Coatings is the reduction of energy required to cool the space during the summer. The Uniflex Roof Coatings and Gaco Western Roof Coating products are specifically engineered to reflect the vast majority of UV rays hitting the roof to prevent them from heating up the surface, and subsequently the space below. This will greatly reduce the workload of the AC units which reduces utility costs while also extending the life of each AC unit. It's a win-win-win! An increased awareness and reduction in energy consumption has prompted energy companies to offer energy credits/rebates in many regions. Check with your local utility provider to see if your home or building applies.
Industry Versatility
Fluid Applied Roof Coatings have been found to be beneficial in a number of different industries including but not limited to: Healthcare, Education, Military & Government, Retail, Offices, Manufacturing, Stadiums & Arenas, Hospitality, Multi-Family Communities, and Agriculture. Call today for a free roof inspection to see if your building will qualify and benefit from Fluid Applied Roof Coatings!
Eco-Friendly
Unfortunately, the disposal of roofing products which, mainly consists of tar and rubber, fills up 15% of landfills and poses as a global environmental issue. Many times the damage on roofs are far from a point of no return, but are torn off anyway producing vast amounts of unnecessary waste. Zenith is often able to repair the existing damage to the roof and seal the entire surface with a roof coating. This will save you upwards of 60–70% of the cost to remove & replace an entire roof while eliminating the waste all together.
By applying our white or light-grey color coating, the roof will also become more reflective and retain less heat. This will reduce the heat inside of your home or building thus minimizing the use of AC units during the warm seasons.
Hail Damage Protection
Gaco Western Roof Coating products are highly elastic and handle impact substantially better than most traditional roof substrates. During an intense storm, a roof can have its lifespan diminished from 20 years to 2 years and the accumulation of smaller storms can cause damage to your roof over time. By applying a roof coating system to your existing roof, you can greatly reduce the chances of hail damage on the roof system thus extending its lifespan. Not to mention, it may prevent your building from exceeding the "claim cost ratio" insurance companies use to determine whether or not they will continue to offer you coverage.
More About Roof Coating Systems
Through the
Gaco Warranty Program
, Gaco offers both material and total system warranties for many of the different fluid applied roofing system installations. Gaco Western, LLC warrants GacoFlex Coating to be free of defects in material for a period of up to 50 years and to meet published physical properties at the time of manufacture.
Gaco 50 Year Warranty
Gaco Western, LLC warrants GacoFlex Coating to be free of defects in material for a period of 50 years and to meet published physical properties at the time of manufacture.
Optional Warranties
Gaco offers more comprehensive warranties as a % of the contract. In this instance, an inspector comes at the beginning and end of the roof coating project and takes samples of the coating to determine the thickness of the roof coating. The length of the warranty is dependent on the thickness of the product.
5 Year Labor Warranty
There will be a 5-year labor warranty on all completed Zenith Painting & Coatings roof coating projects.
Through the
UNIGUARD™ Warranty Program
, UNIFLEX offers both material and total system warranties for many of the different fluid applied roofing system installations. As a business unit of
The Sherwin-Williams Company
, UNIFLEX systems are backed by a multi-billion-dollar organization.
Steps for Colorado Homeowners & Business Owners to Follow After a Hailstorm
Do not have a door-to-door solicitation roofing company inspect your roof.

Contact a local, licensed roofer to inspect your roof. If they believe the damage is significant enough to file a claim, collect your appropriate insurance policy and call the insurance agent.

The insurance company will send a claim adjuster to your house/business to assess the damage and formulate an estimate to have your roof repaired or replaced and to repair other damaged areas as well.

Contact the same roofer who inspected your house/business to review the estimate from the insurance adjuster, and compare reports for the repairs that are required:

Supplementing the insurance claim may be necessary to ensure all damages from the storm are covered.

Tip

: Not all roofing contractors offer supplementing services so be sure to ask before you schedule them to come out.

The insurance company will send you a check for your roof replacement.

Once the roof repairs have been completed, have your roofing contractor send an invoice to your insurance company to have them add it to your records and to confirm the project was indeed completed.